Idiots First

one-act opera begun by Marc Blitzstein,
completed by Leonard Lehrman
after story of the same name
by Bernard Malamud

presented in concert by
Ithaca Opera Assn, Aug. 1974;

premiered by Marc Blitzstein Opera Company,
Bloomington Ind., March 14, 1976;

NYC premiere by
Bel Canto Opera Company, Jan., 1978--
Winner, first Off-Broadway Opera Award for
"most important event of the season."

Orchestral premiere by
Center for Contemporary Opera,
Mar. 1992 at New York University.

Publisher: Theodore Presser

Photos from 1978 double-cast production--
dir.: Randahl Hoey; cond.: Leonard Lehrman.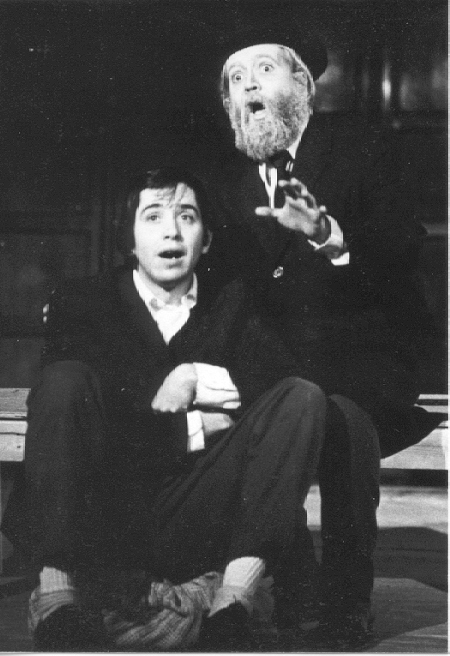 The aging Mendel (Ronald Edwards) knows he is going to die,
but seeks to provide for his retarded son Itzak (Stephen Colantti)
by sending him to his uncle in California.
He needs $35 for the train ticket.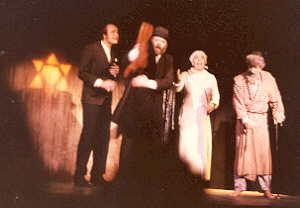 No one will help Mendel (Morris White) and Itzak (Charles Osborne),
except a poor rabbi (Jon Benac) who gives him a fur coat--
over the objections of Ruchel, the rabbi's wife (Natasha Lutov).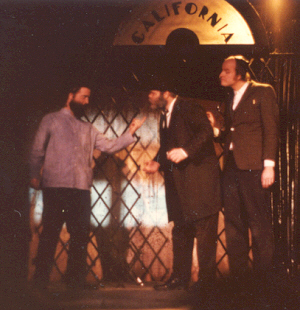 Even then, Mendel must overcome the final obstacle at the train gate:
Ginzburg, the Angel of Death (Ronald Edwards). Somehow, he does.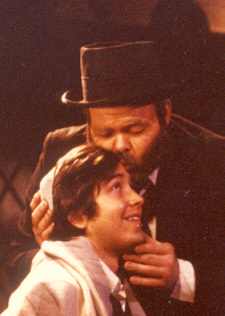 Mendel kisses his son goodbye.